We have Zero-Tolerance Policy for Fraud! If you need a website to perpetrate fraud, please do not contact us
We provide standard website management for people and businesses. A lot of your potential fans and customers will never take you serious if your website looks like an abandoned graveyard. You need to constantly add fresh content to a website, as well as on social media.
We offer packages as low as N5,000 per month for small businesses, and custom package for any specific need of an individual or a big business.
Please take a look at our packages and contact us immediately for the package you wish to purchase. Also take a look at the notes below the table. If this table is too tiny, just click on it to open fully.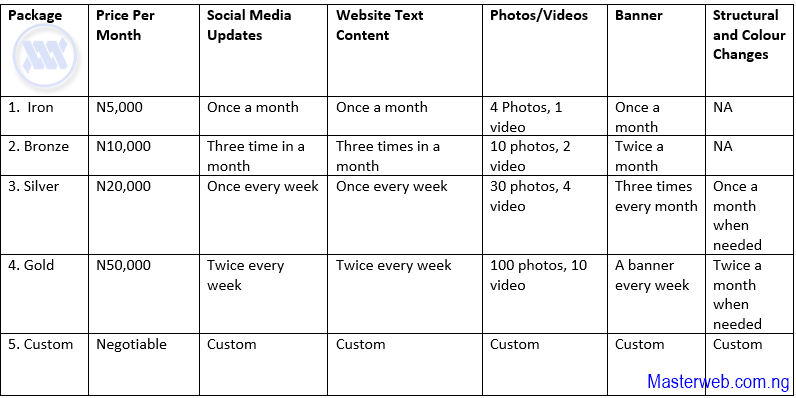 Download Table
ADVANCED CHANGES ON A WEBSITE
When a website requires re-designing, or addition of extra features, which are not actually content that can be added through an already existing CMS (Content Management System) built into a website, such modifications are charged on hourly basis. Our hourly bill is N5,000 for adding, extending, modifying or removing features or redesigning any part of a website.
When such a change is required, we estimate the number of hours it might require and send to the client. Afterwards, we initiate the changes and give an update when we are done with these changes, after which we send an invoice requesting payment. We may request some upfront fees paid in situations where there are several hours involved, or third party services to be purchased.
A website usually would require this level of change at least once in 2 years, except in a fast evolving website where features are added and removed based on interactions with customers or stake-holder requests.